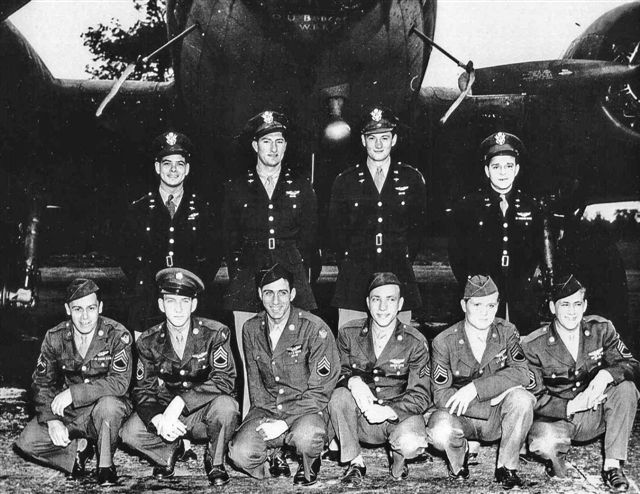 Download Photo
Sky Queen Crew

L to R standing: Lt. Kenneth Dutton, Lt William Dietel, Lt Herbert Funk and Lt Clyde Davis. Kneeling from L to R: SSgt Dunmyer, Sgt Bollinger, SSgt Edward Amory, Sgt Jack Mason, SSgt Wyman Martin and TSgt Howard Adams.


Aircraft: B-17F 545th BS 42-3218 JD*R Doris Mae

28 July 1943 mission to Kassel (A/C Industry) in 42-30032 BK*D Sky Queen - e/a 20mm hit a/c, setting #3 on fire; a/c lost altitude rapidly, then dove & leveled off; a/c blew up in mid-air; cr Kortwoude/Leewarden, Hol; 8KIA 2POW (Adams TT, Perrotti RO); MACR 15165; 2nd Lt. Jacques Riddel (CP; KIA) was pilot on a new crew sent on this mission to gain experience.
Created on

Posted on

Dimensions

640*494

File

Sky_Queen_Crew_Dietel_fam22.jpg

Filesize

88 KB

Visits

1478