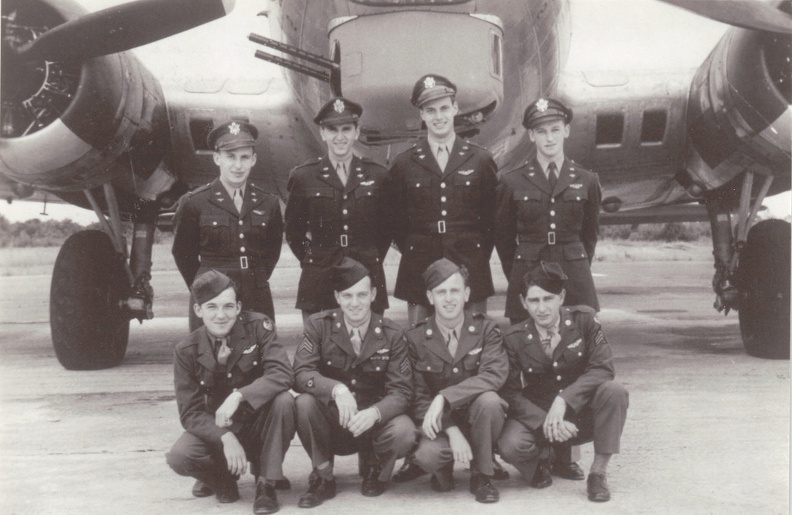 Download Photo
544th BS - The Richard Groff Crew was assigned to the 544th BS on AAF Station 106 Special Orders #139 dated 16 July 1944.

Back Row L/R: 2Lt. Richard H Groff, Pilot; F/O Martin Roth, Navigator; 2Lt. James M Smith, Co-pilot; 2Lt. Charles L Gilliam, Bombardier.
Front Row L/R: Sgt. John Yelinich, Jr, Tail gunner; Sgt. William Hilton Haskell, Waist gunner; S/Sgt. Antone F Ludvik, Radio Operator; Sgt. Leigh W Shufelt, Ball Turret gunner.

Missing from photo: S/Sgt Malcolm A Mauldin, Engineer/Top Turret gunner (in hospital); Sgt. James A Walsh, Waist gunner (on leave).

Frank Vondra: " I was given a number of photographs by my friend and co-worker Dave Rech. Dave indicated that he would like to share the photos with members of the 384th Bomb Group and Eighth Air Force Historical Society page. His uncle, S/Sgt Antone F. Ludvik, was a B-17 radio operator assigned to 544 BS, 384th BG stationed at Grafton Underwood. The photos depict the crash landing of his aircraft that occurred on 07AUG44 near Ford RN Airfield, West Sussex. The aircraft received battle damage during a bombing mission over the oil depot at Dungy, France. The B-17G (42-102959) came to a rest next to an occupied cottage. It was reported that the husband and wife watched the plane approaching through a window of the dwelling, but were frozen with fear and could not leave the structure. Luckily, the cottage received only superficial damage.The aircraft was delivered to the USAAF on 22APR44 and salvaged 18AUG44. "

Photo courtesy of Frank R Vondra, 2013.
Share This:

Facebook
Author

Frank R Vondra

Created on

Posted on

Dimensions

2084*1356

File

2013-12-06131913.JPG

Filesize

301 KB

Visits

2416