Home
/
7 June 1944
Sammons
(with 401st BG)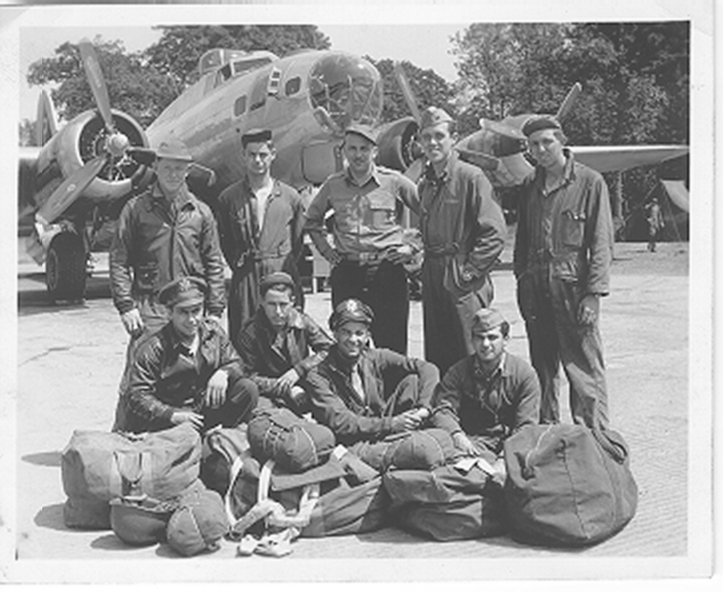 Download Photo
Probably 7 June 1944; Flew mission with 401st BG to Falaise.
Aircraft: B-17G 544th BS 42-97824 SU*U

Standing L-to-R: S/Sgt Redin Kilpatrick (FG), S/Sgt Walter Schneider (TT), Unidentified pilot in training (Oliver Pryor?), Capt Gerald B. Sammons (P), T/Sgt Lawrence Feyerabend (RO).

Kneeling, L-to-R: 2nd Lt. Jack Dashev (N), Sgt. James Placer (BT), William Henson II (B)?, Unidentified officer.

Identification by Redin Kilpatrick, photo from Sarah Kilpatrick Robinson.

My name is Samuel L. Fetty Jr. I visited the 384th web site last week for the first time ever. In looking at the gallery I found a crew picture [#17 out of 35, KILPATRICK b.jpg] with my dad in it. S/Sgt Samuel L. Fetty, he is the first one standing on the left. He was a waist gunner on "Patches II". Dad died on May 15, 2005, and I wish that he had been able to see this web site. Thank You, Sam Fetty Jr.

9/15/2016 Notes, Cindy Farrar Bryan:
1. Since the ID of Kilpatrick was made by Redin Kilpatrick himself and the photo provided by his daughter, I believe the man standing on the left must be Kilpatrick rather than Fetty.
2. If the date of 7 June 1944 is correct, the sortie was:
Gerald Busby Sammons (P), Oliver McCoy Pryor (CP), George J. Jacobson (N), Jack Saul Dashev (N), Leo Lee Cooper (B), Lawrence Leonard Feyerabend (R), Walter Joseph Schneider (E/TT), James J. Placer (BT), and Redin Robert Kilpatrick (FG).
3. Henson was not on that Sortie and I do not recognize him in the photo.

Source Undetermined.
Created on

Posted on

Dimensions

724*592

File

KILPATRICK_b.jpg

Filesize

83 KB

Keywords

Visits

6709