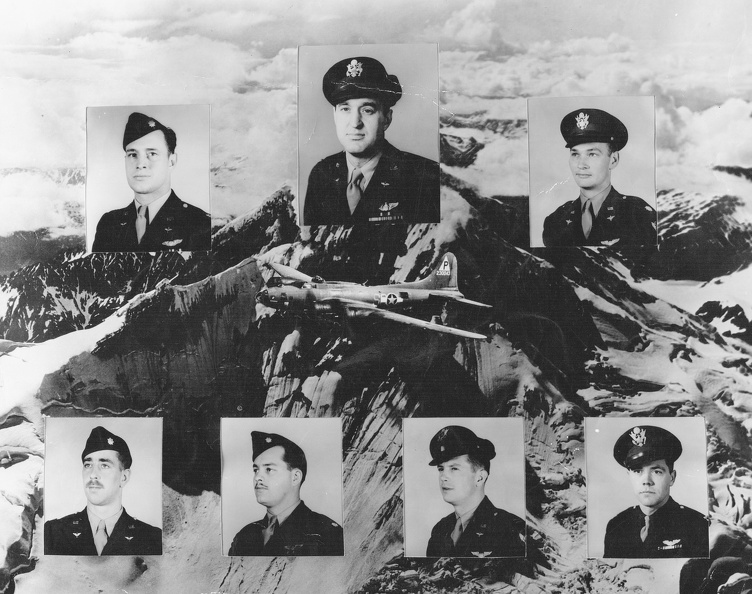 Download Photo
Late 1943 (approx.) - 384th Bomb Group Combat Leadership, late 1943 or early 1944 (after 1 December 1943, based on FCaptain Frink's inclusion).

Top left: Major William E. Buck, Jr., Group Operations Officer.
Top center: Colonel Dale O. Smith, Commanding Officer, 384th Bomb Group, 23 November 1943 to 24 October 1944
Top right: Major Thomas P. Beckett, Deputy Commander, 384th Bomb Group

Bottom left: Major Alfred C. "Coach" Nuttall, Commanding Officer, 544th Bomb Squadron.
Bottom mid-left: Major Raymond P. "Porky" Ketelsen, Commanding Officer, 545th Bomb Squadron.
Bottom Mid-Right: Major George W. Harris, Jr., Commanding Officer, 546th Bomb Squadron. (photo taken prior to his appointment as Major)
Bottom right: Captain Horace Everett "Ev" Frink, Commanding Officer, 547th Bomb squadron.

Contributed by Jean Jackson, July 2013.
Created on

Posted on

Dimensions

2696*2129

File

LG-07312013_00002.jpg

Filesize

1114 KB

Visits

3171