Home
/
Texas - Biggs Field Group Photo Crew #8238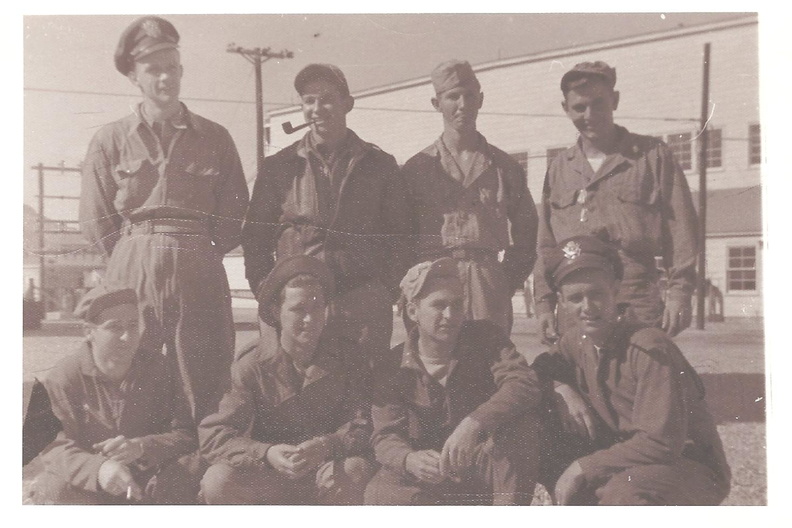 Download Photo
Combat Crew Headquarters Biggs Field, Texas (El Paso)
When they left Biggs Field, El Paso, Texas November 30, 1944 they were Crew #8238. Lt. Leif R. Ostnes kneeling fourth from left.
Possibly standing 1st left, Lt. Gerald E. Leighton, standing 3rd from left, Cpl Harry W. Burns.

Rank: / Date of Rank: / Name:. / ASN: / Duty / Aer Rat: / MOS:
1st Lt 6 Feb 43 Ostnes, Leif R 0737629 P P-3-4 1091
2d Lt 27 Jun 44 Leighton, Gerald E 0780637 CP P-5-2 1051
2d Lt 28 Aug 44 Purchase, George A 02069115 N N 1034
2d Lt 22 Jul 44 Robinson, John V 0783457 B B 1035
Cpl Riordan, Victor J 16133392 E 748
Cpl Nepo, Alexander H 6003846 RO 757
Cpl Beck, Harrison G 17130624 AG 612
Cpl Carroll, John R 37580947 ARO 611
Cpl Burns, Harry W 38546978 TG 611

When they leave Boston for England, Cpl. Carroll, John R is dropped from list. Cpl.
Hamblin, Robert G. 35557913 is added and has duty initial G and an MOS of 611. Cpls. Beck, Burns and Hamblin are duty initial G. Cpl. Nepo has duty initial AR. Cpl. Riordan has duty
initial AE.


Author

Jeanne Ostnes for Lt. Leif R. Ostnes

Posted on

Dimensions

1468*980

File

00 Probably at Biggs Field, in El Paso, Texas. November 30, 1944 they were Crew #8238.jpg

Filesize

157 KB

Visits

795