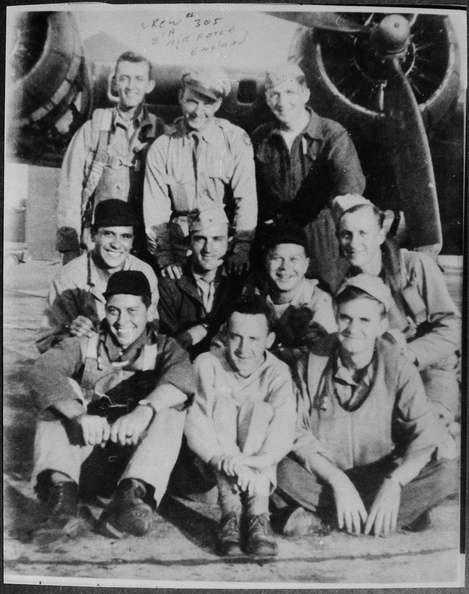 Download Photo
Charles A. Lewis Crew - Charles A. Lewis Crew
BACK ROW Standing L-R: Richard E. Schmansky (CP), Charles Allyn Lewis (P), Ernest Glick (B);
Middle Row L-R: Gerald E. Cooper (TG), Dewey W. Young (N), Q. A. Quigley (ENG/TT), Theodore h. Ulrich (FG);
Front Row L-R: Wayne N. Summers (RO), Edward J. Nestor (TOG), Frank R. Adams (BT)

This photo was taken at Gulfport, MS where we trained for about ten weeks. Ernie Glick did not go to England with the rest of us. As you may know, Bombardiers trained with crews but were not assigned to crews until they got to England, at which time they were assigned to lead and deputy lead crews. Toggliers were then assigned from Waist Gunner positions. Ted Ulrich was assigned to the Roy Lucas Crew after our eighteenth mission so he was not on board with us on our twentieth mission when we experienced our mid-air collision. Thus, we flew the last five missions without any waist gunners.
Charles Allyn Lewis – 21 September 2014.
Share This:

Facebook
Created on

Posted on

Dimensions

3498*4425

File

104108.JPG

Filesize

1605 KB

Albums

Visits

831