Home
/
Boles Crew, Salvage Queen

See back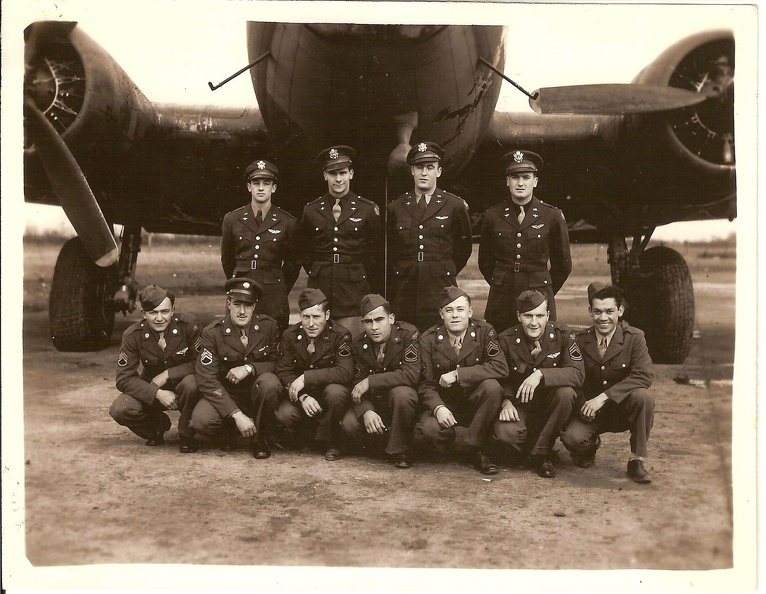 Download Photo
The original Boles Crew, assigned to the 545th BS on 12 November 1943. Photo dates from shortly after that time.

Back L-R: 2Lt George S Malcolm (B), 2Lt Theophilus Edward Beinar (N), 2Lt Robert H Kass (CP), Andrew John Boles, Jr (P).
Front L-R: SSgt Frank H Butman (FG), SSgt Glenn M Faust (TG), SSgt Harry Francis Cologne (BT), TSgt Alfred G Cason (RO), SSgt James F Stanley (FG), TSgt Donald Thomas Vorisek (E/TT), Pvt Armando Ordaz*

* Ordaz was not a member of this crew. He apparently photo-bombed this shot. Note the absence of rank insignia, indicating that he was a "Buck" Private. Read more about him on his person page.

Aircraft: B-17F 546th BS 42-30005 BK*A Salvage Queen; Charles Schuyler crew chief.

Source: The Quentin Bland Collection. Additional information courtesy of Richard Giancarlo, 2015.



Created on

Posted on

Dimensions

1445*1120

File

crewx012.jpg

Filesize

271 KB

Visits

1898