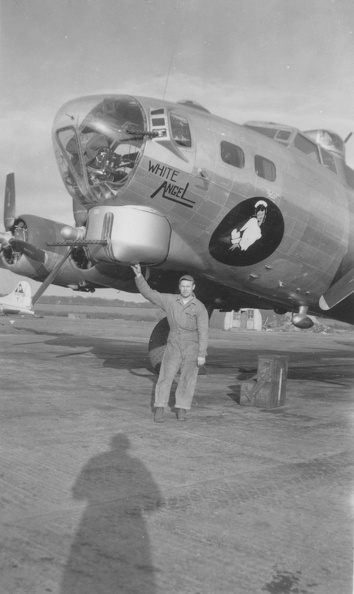 Download Photo
"Clayton's first ship- several killed in it, whole tail replaced and waist looked like a sieve. [refers to 24 April 1944 Oberpfaffenhofen mission, Gowder pilot] A lemon since being back in squadron." [AW]
Charles "Skip" Schuyler, a crew chief in the 546th BS, in front of a/c.

42-107058 White Angel; Alfred Clayton crew chief up to Oberpfaffenhofen, then Gilbert Jacobs.

The Arnold Watterson Collection, 2009.
Share This:

Facebook
Created on

Posted on

Dimensions

1431*2401

File

B17G_White_Angel.jpg

Filesize

435 KB

Visits

1439