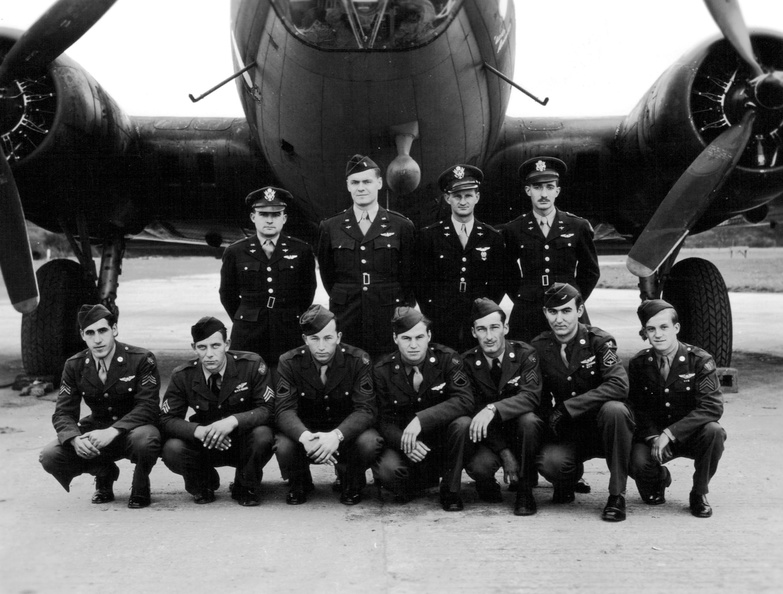 Download Photo
Keller Crew with Little America II

Back L-R: Lt. Kenneth Gross (B), Lt. Jerome Hart (N), Lt. Marion O'Dell (CP), Lt. Lawrence Keller, Jr. (P)

Front L-R: Sgt. Virgilio Jacoby (TT), Sgt. Peter Motiaytis (FG), Sgt. Wallie Vansandt Jr. (RO), Sgt. Harold McClean (BT), Sgt. John Maloney (FG), Sgt. Charles Jellings (TG), and Sgt. Norbert Philippi (FG) who was not a member of the original Keller Crew.

Assigned to the 546th BS

This crew was shot down on 14 October 1943 while on the "Second Schweinfurt" mission. Keller, Odell, Hard, Gross, Jacoby, and McClean were KIA, while Vansandt, Jellings, Maloney, and Motiaytis became POWs.

Photo provided by Gail Bauer, of New York, in 2015. Bauer found a cache of photos - that Dolan apparently sent to his wife - while remodeling their home on Long Island. Additional images of this photo were provided by Al Gross in 2016, and by Matt Smith – from the Quentin Bland Collection – in 2011.
Posted on

Dimensions

2710*2055

File

39061_LITTLEAMERICAandCrewg_2762x2114.jpg

Filesize

687 KB

Visits

1504