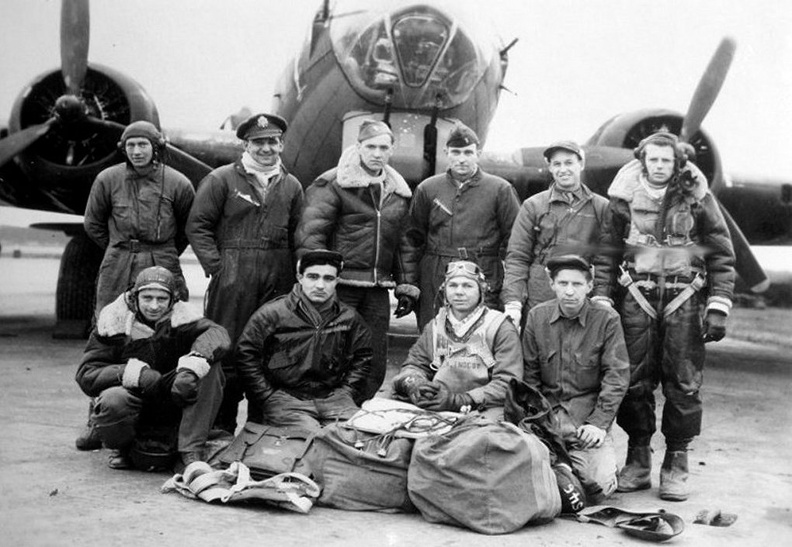 Download Photo
22 FEB 1944 – 384th Bomb Group Mission 65B, target Aircraft Factory in Aschersleben, Germany. The Ulrey crew of the 546th Bomb Squad was Group Lead aboard B-17G 42-37848, "Sissy."

Standing in back row, left to right: Ball Turret Gunner James Edward Dennison, Tail Gunner John Martin Berbrich, Bombardier Richard K. Crown, Navigator Robert Charles Chapin, Pilot Edgar Elsworth Ulrey, Co-pilot George Warrant Harris, Jr.

Front row, left to right: Flexible Gunner Albert William Connors, Radio Operator Sam David Ranallo, Flexible Gunner Nemours Albert Montz. Engineer/Top Turret Gunner Edward Leonard Kolassa

Berbrich, the Ulrey crew co-pilot, flew as tail gunner to observe the formation with Squadron Commander Harris flying in the co-pilot seat.

Identifications provided by Cindy Farrar Bryan. Date and crew identification corrections were made using the Crew ID tool on the 384th Bomb Group website and comparing this photo to other Ulrey crew photos. The 20 FEB 44 mission was the only mission all of the identified flyers flew together in the same aircraft, "Sissy."

Comments and opinions on identifications are invited.

Previously (and incorrectly) identified as 24 March 1944,Stallings, MacPhail.
Share This:

Facebook
Author

Tony P

Created on

Posted on

Dimensions

1020*705

File

1944 Feb 22 Harris Ulrey.jpg

Filesize

131 KB

Visits

1352