See back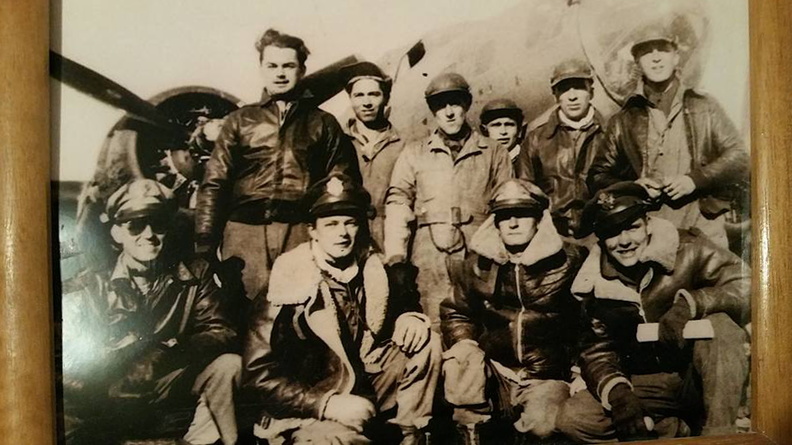 Download Photo
This is a photo sent to me by my grandfather. It was taken at the end of his tour with the 15th. The date should read as 1943, not 1944.

From the back of the photo, edited with additional information:
This photo was taken at our airfield in Foggia, Italy, sometime in December 1943. We were in the 20th Bomb Squadron, 2nd Bomb Group, 15th Air Force.

Front row, left to right: Lt. Meredith Watson Plunkett (co-pilot, from Virginia), Lt. John Olivi Yokie (pilot, from Ohio), Lt. William Montgomery Donehoo (navigator, from Georgia), Lt. John Franklin Miller (bombardier, from Texarkana, Texas)

Back row: Sgt. James Redmond Patterson (radio operator/gunner), Sgt. Walter Eugene Wearne (ball turret gunner, from Nebraska, POW), Sgt. Thomas E. Philpott (waist gunner, from Washington), Sgt. Walter Potempa (waist gunner, from Indiana), Sgt. John Mebane Graham (engineer/top turret gunner, from Missouri), Sgt. Sigmund Sidney Matican (tail gunner, from New York, KIA)

The Yokie crew was transferred to the 8th AF and assigned to the 384th Bomb Group, 544th Bomb Squadron on February 26, 1944.

Photo contributed by John Yokie's grandson, 2016.
Share This:

Facebook
Author

John Yokie

Created on

Posted on

Dimensions

960*540

File

Yokie Crew.png

Filesize

763 KB

Visits

951