Home
/
42-107148 Dark Angel Crew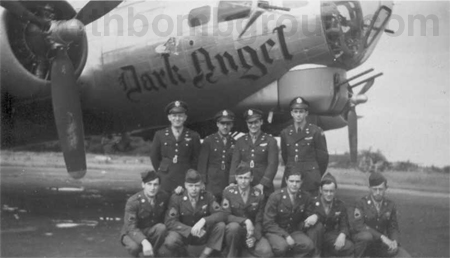 Download Photo
B-17G 42-107148 Dark Angel

BACK L-R: LT William Hugh Kirkpatrick (P), LT Harold M. Seitz (CP), LT John Stimac (B), LT Harry J. Sandrow (N).

FRONT L-R: SSGT Leon Humbarto Briones (RWG), SSGT Francis D. Cook (TG), TSGT George Peterson, (RO), SSGT Raymond Aden (BT), TSGT Robert J. Mack (LWG), TSGT Cecil B. Gist (E/TT)

Photo contributed by Marshall F. Brennan, 2016.

Photos and information originally courtesy of Leon Briones.
Author

Marshall F. Brennan

Posted on

Dimensions

450*258

File

Dark Angel Crew_1.jpg

Filesize

61 KB

Visits

987