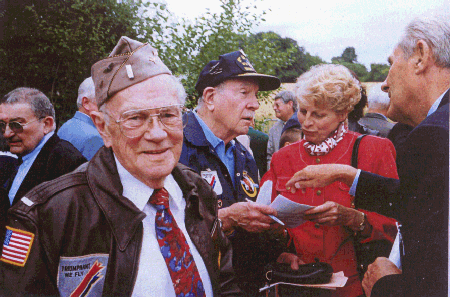 Download Photo
Original site crew photo.
Shot down on the July 4, 1943 mission to LeMans, France, aboard B-17F 42-29960 "NYMOKYMI" 544th BS code SU*J.

Gordon B. Erickson (P) EVD
Clifford Charles Dartt (CP) POW
Francis Mercer Hackley (N) KIA
Don W. Irvine (B) KIA
Paul G. Welch (RO) POW
Willard Edward Freeman (BT) EVD
Robert H. Penly (TT) EVD
Charles Mankowitz (TG) EVD
George Ashworth (WG) EVD
Frank J. Wingerter (WG) EVD

The following information was sent by Roger Cornevin-Hayton, a citizen of France, who was an eye-witness to the downing of 42-29960, and a report submitted by Gordon Erickson. Roger has researched the mission, and has followed up with a memorial dedication at the crash site which was held on July 4, 1999.

The B-17 was hit by flak over Le Mans after releasing its bombs. The plane turned North, and was hit again in the #4 engine, and the prop would not feather. The oxygen system was punctured, and Erickson gave the signal to bail out. The plane was ultimately brought down by an Me109. Roger was in a stadium watching the airstrike, and saw the B-17 smoking, at low altitude, and witnessed the crew bail out near a small town. The French citizens arrived before the Germans, and aided the crew.

Erickson landed in a tree, but was quickly helped by 8 or 9 French men. Freeman and Mankowitz, both injured, were hidden in a hut 10 miles from the crash site in the forest for 47 days before escaping out of France. Clifford Dartt and Paul Welch were captured by the Germans. Irvine and Hackley were killed in the wreckage.

Photos of the crash site taken July 5, 1943, by Roger Cornevin-Hayton.


Posted on

Dimensions

450*297

File

c1-cornevin3.gif

Filesize

83 KB

Visits

1182