Home
/
"DAMN YANKEE" Monument Plaque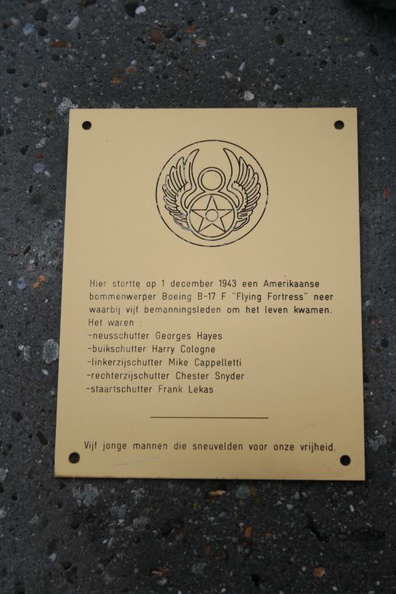 Download Photo
April 2009 - Damn Yankee Monument plaque, Jabekke, Belgium, April 2009.

The inscription reads (Belgian):

Hier stortte op 1 December 1943 een Amerikanse
bommenwerper Boeing B-17 F "Flying Fortress" neer
waarbij vijf bemanningsleden om het leven kwamen.
Het waren

-neussschutter Georges Hayes
-buikschutter Harry Cologne
-linkerijschutter Mike Cappelletti
-rechterzijschutter Chester Snyder
-staartschutter Frank Lekas

Vijf jonge mannen die sneuvelden voor onze vreiheid

Translation to English:

At this location on 1 December 1943 an American B-17F bomber crashed with five crewmembers killed.

They were

-Togglier [Nose Gunner]: Hayes, George Clayborne
-Ball Turret Gunner: Cologne, Harry Francis
-Flexible Gunner: Cappelletti, Mike Joseph
-Flexible Gunner: Snyder, Chester Paul
-Tail Gunner: Lekas, Frank (NMI)

Five young men who died for our Freedom.
Created on

Posted on

Dimensions

567*850

File

189_DamnYankeeMonument_1Dec1993_JabekkeBelgium_Apr2009-3_567x850.jpg

Filesize

70 KB

Visits

1897