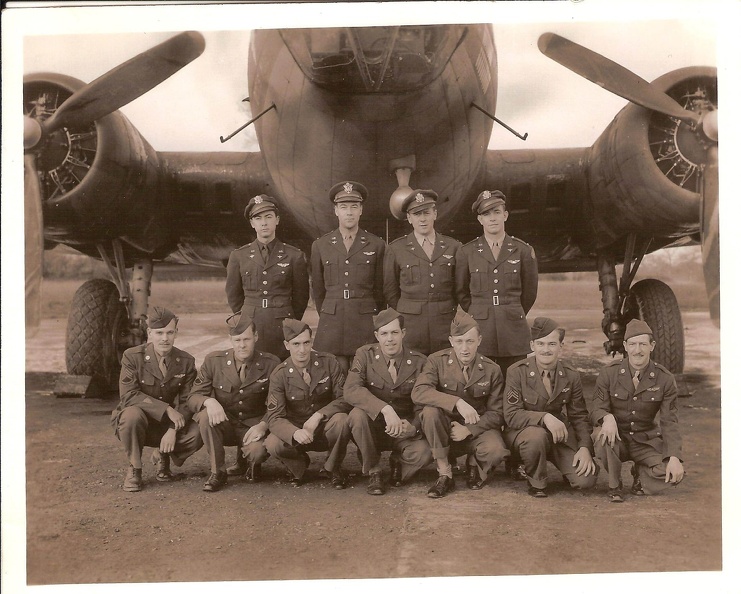 Download Photo
Back L-R: F/O Ehrhard Mittendorf (N), Lt. Harvey Reid (CP), Lt. George Marquardt (B), Lt. Roger Smith (P)

Front L-R: S/Sgt. Bruno Kaminski (TT), S/Sgt. Gerald Hamilton (FG), S/Sgt. Earl Kendall (RO), S/Sgt. Jesse Green (TG), Sgt. Chester Boney (FG), Sgt. Charles Danko (BT), Sgt. John Jay Stevens

Assigned to 546th BS

Source: The Quentin Bland Collection.

jmyers24 - Friday 23 March 2018 11:58

I just recently learned about my great-grandfather John Jay Stevens pictured in the front row, far right. I was not aware that I had family who served in the military. I am blown away by finding this. Truly remarkable. I am following in his footsteps of serving the country. I am an Air Force ROTC cadet and I recently got selected to become a Pilot. I am extremely proud and thankful that great men like the ones pictured came before us.
Share This:

Facebook
Created on

Posted on

Dimensions

1435*1150

File

crew173001.jpg

Filesize

274 KB

Visits

1021