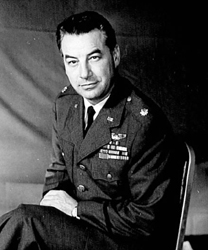 Download Photo
Original site crew photo.

Lt. Francis J. Witt commanded an original crew in the 547th Squadron, formed in March, 1943, at Wendover Field, Utah. On June 12, 1943, he and four of his crew were involved in a collision with the B-17 flown by LT Kowalski at Grafton-Underwood. Witt's crew survived, while the 5 men aboard Kowalski's aircraft were killed. He flew missions from June of 1943 until March, 1944. Witt had to bail out on his first mission to Berlin on March 6th, 1944. He managed to evade capture travelling across Belgium and France, eventually climbing the Pyrenees Mountains to freedom in Spain. Lt. Witt remained in the Air Force and flew in the Berlin Airlift for approximately six months. Lt. Colonel Francis J. Witt retired from the Air Force about 1956.

Photo courtesy Francis Witt via Ed Goulder.
Share This:

Facebook
Posted on

Dimensions

208*250

File

c18-F Witt.jpg

Filesize

35 KB

Visits

671